Over here at Purple Critter we like to practice what we preach. A few posts have been dedicated to branding, and we wanted to show just a couple of examples of how we incorporate our brand.
A couple of month's ago, Toni ran into a problem when shooting a 6'4″ client. She needed to use a chair to reach the appropriate shooting height, and it was a little bit uncomfortable and awkward to navigate a clunky chair while shooting. Luckily, we have an amazing designer and engineer in the family, so we delegated the task of creating a step-stool to Andy's father, Doug.  Our homemade stool is the perfect size! Plus, he ingeniously incorporated our logo- the Purple Critter- into the design. We love it!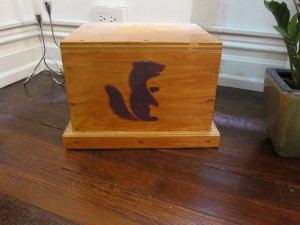 Another effective way to get your brand out there without saying a word is to carry it with you or on you. This can be as easy as wearing a custom shirt, bag, or hat, writing with customized pens or pencils, or by branding something you use everyday- a water bottle! Thanks to a Google Offer with Cafe Press, we were able to customize this bottle for less than $10!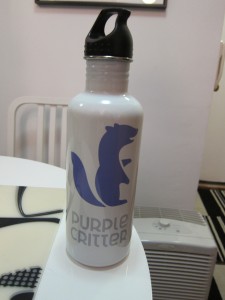 What cool ways have you incorporated your logo?